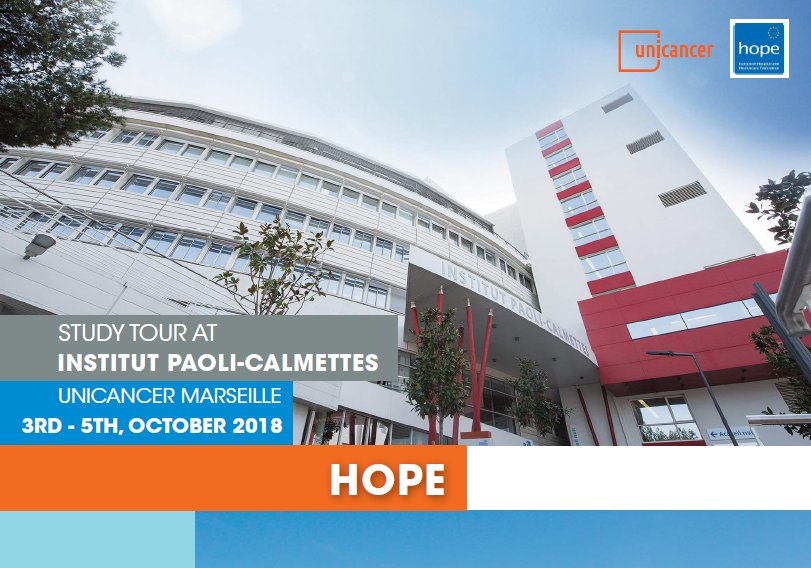 HOPE organises a study tour in Institut Paoli-Calmettes, Unicancer-Marseille, France: "The management of innovation in cancer care". Organizational, technical and therapeutic innovations in cancerology can be transferable to other pathology and especially chronic diseases. In addition to the presentation and visits, a part of the programme will be dedicated to exchange between participants.
You can register online before 7 September.
The fee is €410 and includes two lunches, one diner, transportation in Marseille, as well as two hotel nights at Hôtel Maison Montgrand (35, rue Montgrand – 13 006 Marseille – France www.jardin-montgrand.com), for the 3 and 4 October.
NB: In order to have a good representation of the members, please note that registration is limited to 3 participants per country.
Paoli-Calmettes Institute (IPC)
Based in Marseille, Paoli-Calmettes Institute is the first comprehensive cancer centre in region providing global care for cancer. It is a member of the national federation UNICANCER. The Institute has been licensed by the HAS (the overall French health authority) at the highest level in 2015.The centre gathers 1 550 employees – researchers, medical doctors, health and administrative staff – engaged in wide range of activities on site: prevention, research, treatment and training. In addition, over 250 researchers work in close collaboration with the medical teams to offer the cutting edge scientific advancements and the highest level treatments against cancers.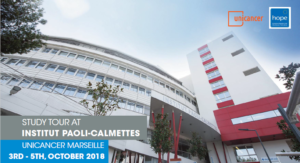 Further information: www.institutpaolicalmettes.fr