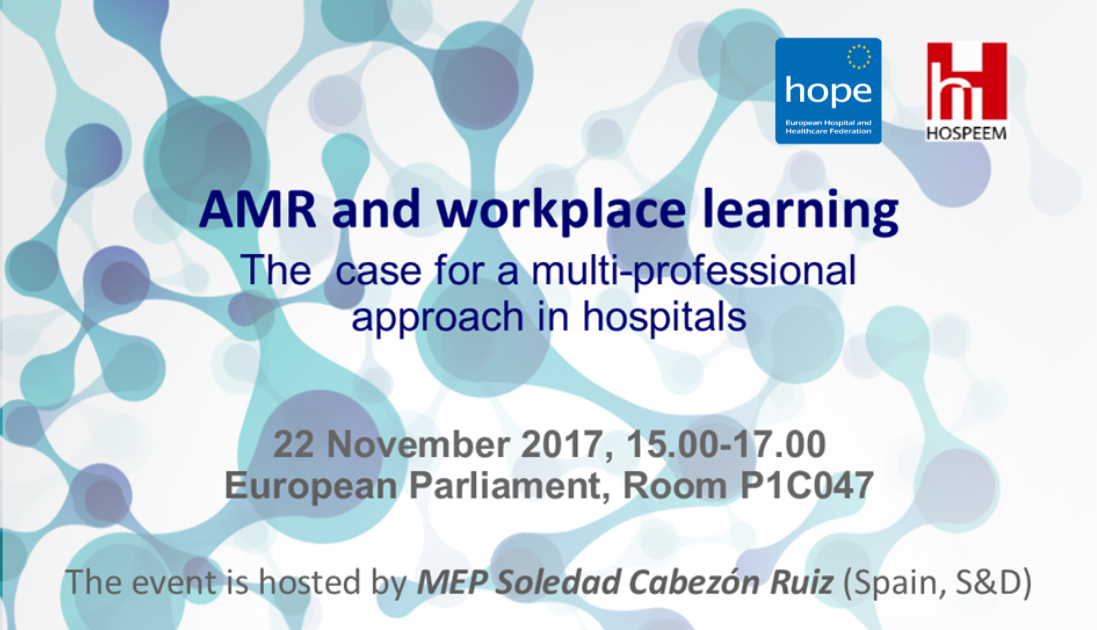 The European Hospital and Healthcare Federation (HOPE) and the European Hospital and Healthcare Employers' Association (HOSPEEM) invite you to the Workshop "AMR and workplace learning: the case for a multi-professional approach in hospitals".
The event is hosted by MEP Soledad Cabezón Ruiz (Spain, S&D) at the European Parliament, Room P1CO47, on 22 November 2017, from 15:00 to 17:00.
The Workshop addresses the importance of continuous professional development for the correct understanding and use of antibiotics by hospital staff and patients and the prevention of infections. Good practice examples to train staff in combatting Antimicrobial Resistance (AMR) in the hospital sector will be presented to foster the discussion. The event will also provide the opportunity to emphasize the importance of inter-professional cooperation in combatting AMR.
The date chosen for the Workshop will allow to connect the event to the activities planned for the 2017 European Antibiotic Awareness Day (EAAD) and the launch of the new EAAD Toolkit for Hospital Staff.
Confirmed speakers
Introductory remarks:
MEP Soledad Cabezón Ruiz (Spain, S&D);
Panel:
MEP Karin Kadenbach (Austria, S&D);
Ms. Angela Bolufer, European Commission, Member of the AMR Task force;
Dr. Dominique Monnet, European Centre for Disease Prevention and Control (ECDC), Head of the Disease Programmes on Antimicrobial Resistance and Healthcare Associated Infections;
Dr. Denis Herbaux, CEO of PAQS asbl, Plateforme pour l'Amélioration continue de la Qualité des soins et de la Sécurité des patients, Belgium
Register here before Monday 6 November.