DIGITAL HEALTH: Virtual Hospital in Helsinki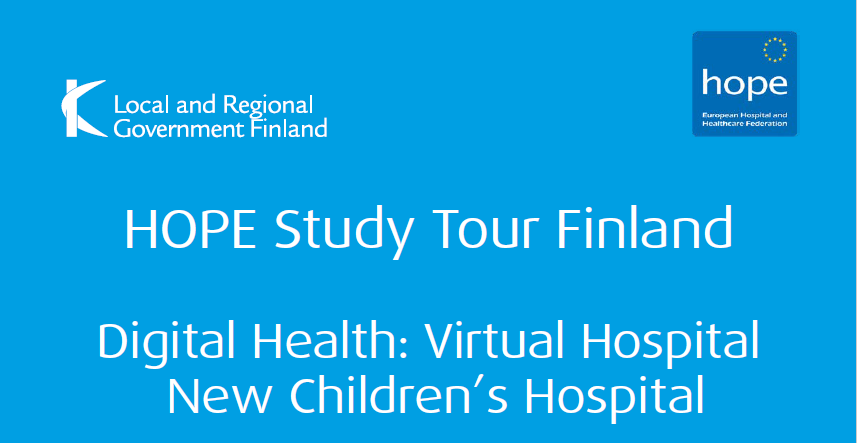 HOPE organises a Study Tour to Helsinki (Finland) on 24-25 September 2019 during the Finnish EU-Presidency.
The theme is Virtual Hospital 2.0, which produces specialised medical care -related digital healthcare services to citizens, patients and professionals. Virtual hospital is a joint project between the university hospitals in Finland, and their population responsibility and catchment area covers all Finns. Virtual hospital makes healthcare services available to all Finns regardless of their place of residence and income level, thus improving the equality of citizens. Digital services are especially well suited for monitoring the quality of life, symptoms and lifestyle, and also for living with a long-term illness before and during treatment and in the monitoring stage of the treatment. The services complement the traditional treatment pathways.
Production and implementation of services:
-the Terveyskylä.fi ('Health Village') service offering information, advice, self-care, symptom navigators, digital care pathways, and tools for citizens, patients and professionals. The service comprises various themed virtual houses, more than 20 houses and services are available for more than 30 groups of patients.
-Innovative development: innovation workshops, piloting, artificial intelligence, IoT, and research and the researcher's tools
-Development of services and changes in operation: development model, developer network and centres of expertise.
There is a site visit to the New Children's Hospital:
-Which is focused on demanding specialised health care for children.
-Which provides care for patients from all across Finland.
-Where patients in the hospital range from newborn babies to 15-year-olds.
-Where families can stay together in New Children's Hospital.
-Where parents are allowed to stay with their child around the clock.
Finland is facing the same challenges as the rest of Europe: An ageing population, a dramatic increase in the number of patients/citizens suffering from chronic diseases, and a rise in health expenditure. Virtual hospital means that we are supporting an operational change in the health sector instead of just digitalising old services or providing new services within the old service framework.
Please find all information related to registration as well as the agenda below.
Registration is closed. The Study Tour is fully booked. 

Contact: Ms Hannele Häkkinen, Association of Finnish Local and Regional Authorities, hannele.hakkinen@aflra.fi